A Message from our MCRA President
ONE
Recently I was reminded of a story that is too often forgotten by most.  It's about a small boy on the beach.  He is all alone walking along the shoreline picking up one starfish at a time out of the hundreds that have washed up on the shore and throwing it back into the ocean.  He does this for hours.  A man who has been watching him work finally comes up to the boy and asks, "Boy, why are you doing this work?  Don't you know it doesn't matter?"  The boy paused, looked at the man, threw another starfish in the ocean and said, "It mattered to that one."
All too often we see a situation as too big of a task or why does it even matter.  What can one person do; right?  Well, one person can change the world for somebody else.  If one person can do that, imagine what a group of people can do when they unite and stand strong for the good of the people.
Did you know that MCRA was created in 1966 when just 34 reporters volunteered to meet at the invitation of Chief Justice W.N. Ethridge, Jr., and Robert C. Khayat, Director of Continuing Education at the University of Mississippi School of Law.  The meeting was under the joint sponsorship of the Mississippi Trial Judges Conference, the University of Mississippi School of Law, and the National College of State Trial Judges.
Now in its 48th year, MCRA continues to work through the volunteerism of its working reporters.  Without that selfless dedication of time, creativity, and passion, Mississippi court reporters would not be where we are today.  We have come a long way, but the road is still long and full of bumps and potholes.  But just as the boy on the beach stayed positive, so must we.  We must stay involved, volunteer, work together, stay positive, and know that we are all in this amazing profession together.
Professionalism Measured by Excellence and Ethics.
— Sheila McKinney, BCR, CCR
MCRA President, 2014-2015
---
MCRA News
Updated on Friday, May 23, 2014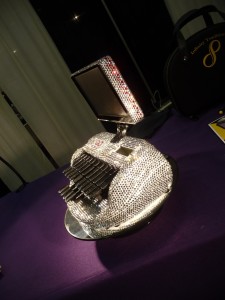 Our members came through once again!  
MCRA had two student members in desperate need of borrowing a writer to continue with their court reporting schooling; and with just one mass email sent out by MCRA to its members, two machines have been donated.  Proof once again that court reporters are truly awesome.
A huge THANK YOU to our generous members Cindy LaCour and Lucretia Smith!
Updated on Thursday, May 1, 2014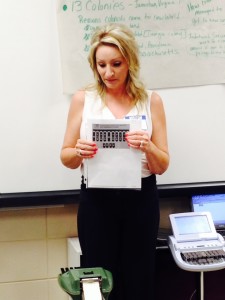 WHAT HAVE YOU DONE TO HELP PROMOTE OUR PROFESSION?
Here's a message from MCRA member and Mentoring Program Coordinator Melissa Magee, CCR, RPR, RMR, on a recent school visit to Promote Our Profession:
I went to Mendenhall Elementary School and spent the afternoon with two fourth grade classes and teachers, Ms. Sullivan and Ms. Weeks. I set up my equipment, talked about realtime, and gave a demo.  I then gave a short lecture/talk on court reporting and our role in the courtroom, in depositions, as well as the job of CART providers and captioners.
The students were assigned the roles of judge, jury member, bailiff, plaintiff and attorney, defendant and attorney, and witnesses.  We had a mock trial on "The Case of Mary's Missing Lunch."  Apparently Virgil Goodman was seen with peanut butter on his mouth shortly after Mary's lunchbox was discovered missing.  When the lunchbox was found, Mary's peanut butter sandwich, banana and Capri Sun was gone.  All that remained was a few crumbs.  Virgil was implicated because he was appointed to carry the lunchboxes from the room to the cafeteria.  After much hilarious testimony, Virgil was found guilty by his peers.
When the mock trial was over, each of the 50 students were allowed to write on the manual machine that was set up in the classroom.  After they pecked a bit, I then wrote their names on the machine and tore off the paper for them to keep with their names written in steno.  It was so much fun.  One kid wanted the names of his brothers and sisters written also so he could share that with them.
Of course I took jellybeans for them to eat.  I passed out the jellybeans, left them with a sugar high, and got out of there before the buses arrived.
It was truly a blast.
Be sure to check out MCRA's Gallery for more photos.
Updated on Thursday, May 1, 2014
MCRA's Promoting Our Profession (POP) Committee is now recruiting awesome reporters like you to volunteer some of your time to be an MCRA Mentor (POP Stars!). This mentoring program is designed specifically for our court reporting students to have an opportunity to connect with working, licensed reporters who are members of MCRA. Our mentors will offer support, guidance, motivation, job shadowing, a shoulder to cry on, and utmost enthusiasm when students reach their goals. We all have been through school and know the challenges each student faces. We have students eagerly awaiting mentors. Show your support for the future of our wonderful profession and sign up to be a mentor today!
For more program details and/or to sign up to be a POP Star, simply click on the Student tab and go to Mentor Program. Follow instructions on where to send completed application.
Don't miss the Mentor Program seminar at the Spring Convention in Biloxi, Mississippi!