A Message from our MCRA President
ONE
Recently I was reminded of a story that is too often forgotten by most.  It's about a small boy on the beach.  He is all alone walking along the shoreline picking up one starfish at a time out of the hundreds that have washed up on the shore and throwing it back into the ocean.  He does this for hours.  A man who has been watching him work finally comes up to the boy and asks, "Boy, why are you doing this work?  Don't you know it doesn't matter?"  The boy paused, looked at the man, threw another starfish in the ocean and said, "It mattered to that one."
All too often we see a situation as too big of a task or why does it even matter.  What can one person do; right?  Well, one person can change the world for somebody else.  If one person can do that, imagine what a group of people can do when they unite and stand strong for the good of the people.
Did you know that MCRA was created in 1966 when just 34 reporters volunteered to meet at the invitation of Chief Justice W.N. Ethridge, Jr., and Robert C. Khayat, Director of Continuing Education at the University of Mississippi School of Law.  The meeting was under the joint sponsorship of the Mississippi Trial Judges Conference, the University of Mississippi School of Law, and the National College of State Trial Judges.
Now in its 48th year, MCRA continues to work through the volunteerism of its working reporters.  Without that selfless dedication of time, creativity, and passion, Mississippi court reporters would not be where we are today.  We have come a long way, but the road is still long and full of bumps and potholes.  But just as the boy on the beach stayed positive, so must we.  We must stay involved, volunteer, work together, stay positive, and know that we are all in this amazing profession together.
Professionalism Measured by Excellence and Ethics.
— Sheila McKinney, BCR, CCR
MCRA President, 2014-2015
---
MCRA News
Updated on Thursday, December 18, 2014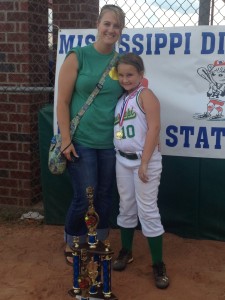 Please Meet MS. LINDSEY ARENDER
Where do you live?  I just moved to Stringer, MS after living in Taylorsville, MS for 30 years.
What is your favorite thing about being a student? If there is one good thing about being a student, I would have to say it would be having that title to keep me motivated into professionalism…LOL!! It's very hard working a full-time job and schooling it, but I just keep pushing myself to get finished!
What are your current speeds?  I'm am now in my 120′s now after taking a short break this summer for my daughter to play softball and to move!
What is your career goal?  By the end of 2015, I want to be certified and if not, I'll just keep testing, testing, testing until I get there!
Advice you would give to other students?  1)NEVER GIVE UP!!!! Even when you are exhausted and your fingers don't want to move,  you need to eat some chocolate and drink spark and zap right back into the zone to push yourself even harder 2)Try to find another student in your area and hold each other accountable. Compete with them with the idea of knowing you're not competing–you're just pushing them to push you!  3)Find an outlet or stress reliever and come back ready to roll! There will be rocks in the road, but run over them with that bulldozer attitude that you ARE going to be the best reporter you can be and nothing is standing in your way.
What are other hobbies you enjoy?  I love family time, church, and football! I also love to play the piano to relieve stress.
What made you decide on court reporting as a career? I originally started school for financial reasons.  Being that I was a single-mom when I started, I looked at the future and asked myself–why am I struggling to put food on the table when there has to be a different way out?!?!?  Even though I have a degree, nothing around seemed enough to live life comfortably when it's just my income.  I prayed for an answer and God let everything fall in my lap so easily.  Now that I have met so many people in this field, I'm so glad He led me down this path.  It's more than trying to finish and enter the workfield of reporting, it's the friendships that I am so thankful for.

Comments? Thank you to my past and present mentors, Melissa and Theresa, for all the encouragment and that little push of "I hope everything is going ok" and keeping me in the loop.  Thank you to MCRA for not treating me like a student but letting me be a part of what you guys do every day.  And lastly, thank you to my "Reporter in Training Partner," Catherine Brock, for making sure I'm staying on my machine—even when I don't feel good or just don't want to!
Updated on Friday, September 26, 2014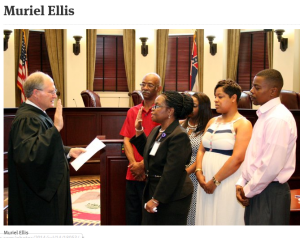 Muriel Ellis has been blazing through Mississippi's legal system.  Ellis, 54, became the first African American clerk of Mississippi's Supreme Court and Court of Appeals on July 1 this year, after being the first African American Supreme Court deputy clerk and chief deputy clerk.
Ellis worked her way through the clerk's office for 23 years after beginning as a legal clerk in 1991.  The Callaway High School alumna, who graduated in 1977, became chief deputy clerk in 2009 after being named a team leader in 2000 and deputy clerk in 2007.
The Jackson native said she is blessed and honored to accept her new position.  "I am just going to lead the clerk's office forward, " she said.  Ellis took courses at Phillips Business College and worked as a ward secretary for St. Dominic Hospital from 1979-1987.
Ellis has seen many changes since working in the clerk's office.  Along with Kathy Gillis, former Mississippi Supreme Court Clerk for 33 years, Ellis supervised the office's transition to electronic filing.  Since the office's mandatory e-filing for briefs and motions began on Jan. 1, 2014, she continues to work on the electronic transition through implementing emailed orders and clerk's notices, as well as e-filing transcripts and records from other trial courts.
The clerk became interested in a career in the legal system when she was serving as an alternate juror in the Hinds County Circuit court.  While working in the billing edits department at the City of Jackson Water Department, she said she drove past the Supreme Court building all the time on her way to the Water Department office, which is also located on High Street.
"I never knew what this building was, but I used to say: 'That is a pretty building.  I would love to work there someday,'" Ellis said.
Ellis has three children – Karen Ellis Evans, Kimberly Ellis and Leonard Ellis – three grandchildren – Madison Evans, Leonard Ellis III and Bryson Williams – and is married to Leonard Ellis Sr.
Credits:  Article written by Mary Kate McGowen and originally appeared in the Jackson Free Press, jacksonfreepress.com.
Updated on Saturday, September 13, 2014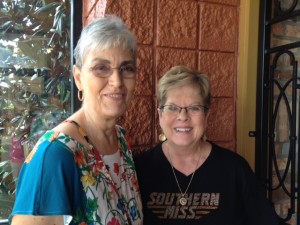 As a mentor, it is exciting for me to keep up with the students.  Like all of us working reporters, they have lives outside of reporting school.  One of our students is expecting a baby soon.  Another student has recently moved into a new home.  Our newest student member is a mother of two small children and still finds time to practice on her machine.  She even sat for the skills portion of the RPR recently.  It is encouraging and movitvating to the students when we as working reporters take the time from our own lives to just ask, "How ya' doin?" 
All of this got me to reminescing back to when I was a student myself.   While at the University of Southern Mississippi in court reporting school, I was blessed to have two kindred spirits with whom I interacted on a daily basis for over three years, Dr. Donna Stewart (formerly Conerly) and Dr. Carolyn Hagler.   Many, many times over my past 25 years of reporting have I thought of them and wondered where they were, if they were still working, if perhaps they were travelling the world now, or if I even might find one of them stuffed and meticulously placed in the business building on the USM campus.  Well, there's good news and there's bad news.  First the good news:  Any professor that had been stuffed was removed before my visit.  Now the bad news:  These two professors are no longer spending their days at Southern.  So my search began. Read More