A Message from our MCRA President
MY YEAR AT A GLANCE…
Do you know what happens on April 22nd?  April 22nd is the day upon which I pass the gavel to an amazing leader, fierce entrepreneur, and an absolute go-getter with the smarts, professionalism, and ethics to lead the Mississippi Court Reporters Association to new heights.  That person is my dear friend Melinda Bowers.
This past year has proven one thing to me:  There is not enough hours in the day.  Last April when I assumed the President position I set out a full page of goals to accomplish within 365 days.  What was I thinking; right?  Wrong!  MCRA has limitless possibilities and I wanted to tap into every little bit of those opportunities.  Although not all of my original goals have been completed, I'm beyond pleased to say we tackled a great deal of them.  MCRA currently has several fundraising efforts underway.  The MCRA Directors conducted a phone drive to update members' information for a printed directory and to discuss personally with them any court reporting topics the members wanted to discuss.  For the first time ever MCRA has the Kay Ferguson Award to honor those members who unselfishly gave back to their profession through volunteering countless hours of their time to MCRA.  MCRA has been well-represented at the Mississippi capitol this year during the legislative session pushing for the bills that support our profession.  MCRA has been busy promoting our profession through school career days, news media, multiple presentations to students, judges, and attorneys, and by being especially active during the National Court Reporting & Captioning Week.  Also, for the first time, Mississippi Governor Phil Bryant proclaimed February 15-21, 2015, Mississippi Court Reporting & Captioning Week.  Read More
---
MCRA News
Updated on Tuesday, February 24, 2015
by Melissa Magee, MCRA Mentor Program Coordinator

Meet Monica, stay-at-home mom, and her little blessing Kendall.  Kendall is four months old and is the apple of her mother's eye.  As we all know, little blessings can be hard on the wallet: There's diapers, formula, clothes, toys, etc.  The list can go on and on.
Since Kendall's birth, Monica has been considering starting a career. After much research, Monica has chosen court reporting.  Monica will be enrolling in the ever popular Court Reporting at Home program.  By doing an at-home program, Monica will be able to stay with Kendall while studying and practicing for her new career.  Once Monica completes the program and passes the required certification tests, she may work part-time, if she so desires, yet potentially earn a full-time income.
Court reporting offers a tremendous amount of flexibility in hours and options, which is perfect for stay-at-home parents, new parents, and parents with children of all ages.
Think this career is for you?   Check out
crTakeNote.com
or email
info@mscra.com
for more information on this amazing profession.
Updated on Thursday, February 19, 2015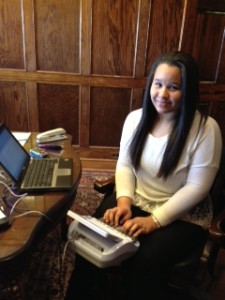 By Melissa Magee, MCRA Mentor Program Coordinator
There is an increasing number of students being home schooled today. The Mississippi Court Reporters Association has made it a priority to reach out to these students to offer information on careers in court reporting.
Today I had the pleasure to be job shadowed by Caitlyn, a 17-year-old home-school student from Bay Springs, Mississippi.  Caitlyn attended Sylva Bay Academy up until two years ago, at which point her grandmother decided to give home-schooling a try.  Caitlyn studies one subject a day and will have enough hours to receive her diploma in May of 2016.
Caitlyn has been researching possible careers and, being the social butterfly she is, would love a job where she can travel and meet new people.  Court reporting is her first option.
We started our day around lunch and popped in at the courthouse in Bay Springs.  We caught the judge on lunch break and spent a few moments in chambers with him and his staff discussing some of the aspects of court reporting.  We then attended a deposition where Caitlyn job shadowed.  For those of you who aren't familiar with shadowing, a student accompanies a reporter, say to a deposition, and basically sits, listens, takes notes, etc, just to get a feel for the job.
Caitlyn enjoyed very much playing with the steno machine.  I was excitedly rambling on about, "This is the Q.  This is the A.  And when you mash all of these buttons together, that means the judge is talking.  Now you play for a minute while I finish setting up."  That girl was taking some awesome mental notes.  Next thing I knew, she was writing Q, A, THE COURT repeatedly at the speed of about 300 words per minute.
Yes, it was a great day.  Caitlyn is currently researching the different reporting theories and will keep us informed on her progress.
Updated on Tuesday, February 10, 2015
Please meet KATELYN BERCH
Where do you live?  I live in Magee, MS, and I have lived here my whole life!
What is your favorite thing about being a student?  My favorite thing about being a student is that is has taught me many different lessons. Lessons, such as patience and determination. You have to have both in order to be successful in this field!
What are your current speeds?  I am currently working on my 120s in all three categories.
What is your career goal?  My goal is to graduate next May and become a successful reporter. Once I become a reporter, I also want to help mentor students. I have had many people encourage and offer to help me, and I cannot wait to pay it forward!
Advice you would give to other students?  The main advice I would give to other students is to practice, practice, practice!  I believe practicing is the key to getting out of school. Also, reward yourself when you accomplish a goal. Last but certainly not least, don't ever beat yourself up when things get difficult or you are having trouble with a certain speed.
What are other hobbies you enjoy?  I enjoy spending time with my friends and family. I also love to barrel race but between work and school, I don't have time for it right now!
What made you decide on court reporting as a career?  After my sophomore year of college, I had no clue what I wanted to do with my life. A counselor at school recommended that I look into something such as court reporting or paralegal work. I shadowed a court reporter and absolutely fell in love with it! I also get excited thinking about all the rewards court reporting has to offer!
Comments?  I appreciate MCRA for all that they do. They made me feel so special at the convention this past April. It is very encouraging to know there is a committee that is so supportive of all the students. I also want to thank Mrs. Melissa Magee and Mrs. Amanda Wootton for all of their help and encouragement. They have both gone the extra mile to help me when they did not have to. It is a great feeling to know you have so many people that care about your progress and want to see you succeed!