A Message from our MCRA President
ONE
Recently I was reminded of a story that is too often forgotten by most.  It's about a small boy on the beach.  He is all alone walking along the shoreline picking up one starfish at a time out of the hundreds that have washed up on the shore and throwing it back into the ocean.  He does this for hours.  A man who has been watching him work finally comes up to the boy and asks, "Boy, why are you doing this work?  Don't you know it doesn't matter?"  The boy paused, looked at the man, threw another starfish in the ocean and said, "It mattered to that one."
All too often we see a situation as too big of a task or why does it even matter.  What can one person do; right?  Well, one person can change the world for somebody else.  If one person can do that, imagine what a group of people can do when they unite and stand strong for the good of the people.
Did you know that MCRA was created in 1966 when just 34 reporters volunteered to meet at the invitation of Chief Justice W.N. Ethridge, Jr., and Robert C. Khayat, Director of Continuing Education at the University of Mississippi School of Law.  The meeting was under the joint sponsorship of the Mississippi Trial Judges Conference, the University of Mississippi School of Law, and the National College of State Trial Judges.
Now in its 48th year, MCRA continues to work through the volunteerism of its working reporters.  Without that selfless dedication of time, creativity, and passion, Mississippi court reporters would not be where we are today.  We have come a long way, but the road is still long and full of bumps and potholes.  But just as the boy on the beach stayed positive, so must we.  We must stay involved, volunteer, work together, stay positive, and know that we are all in this amazing profession together.
Professionalism Measured by Excellence and Ethics.
— Sheila McKinney, BCR, CCR
MCRA President, 2014-2015
---
MCRA News
Updated on Saturday, September 13, 2014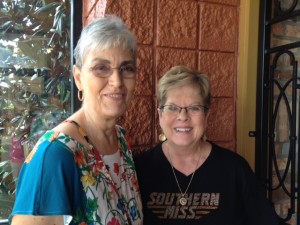 As a mentor, it is exciting for me to keep up with the students.  Like all of us working reporters, they have lives outside of reporting school.  One of our students is expecting a baby soon.  Another student has recently moved into a new home.  Our newest student member is a mother of two small children and still finds time to practice on her machine.  She even sat for the skills portion of the RPR recently.  It is encouraging and movitvating to the students when we as working reporters take the time from our own lives to just ask, "How ya' doin?" 
All of this got me to reminescing back to when I was a student myself.   While at the University of Southern Mississippi in court reporting school, I was blessed to have two kindred spirits with whom I interacted on a daily basis for over three years, Dr. Donna Stewart (formerly Conerly) and Dr. Carolyn Hagler.   Many, many times over my past 25 years of reporting have I thought of them and wondered where they were, if they were still working, if perhaps they were travelling the world now, or if I even might find one of them stuffed and meticulously placed in the business building on the USM campus.  Well, there's good news and there's bad news.  First the good news:  Any professor that had been stuffed was removed before my visit.  Now the bad news:  These two professors are no longer spending their days at Southern.  So my search began. Read More
Updated on Saturday, September 13, 2014

ANGELI ENGLISH
MCRA is proud to be spotlighting one of its students, and this month it is Ms. Angeli English.  Ms. English is our 2014 Student Scholarship recipient.
Here is a little bit about Angeli.
Where do you live?  I'm residing in D'Iberville, MS. I moved in March from Florida because of my husband's job.
What is your favorite thing about being a student?  Ha! I don't want to be a student, but I appreciate that I, and I alone, control my progress, which is a double-edged sword.
What are your current speeds?  Working on my 180s in all three categories: LIT, Testimony Q&A, and Jury Charge. My goal is to start interning this month. I need to pass one 180 QA  to start my official internship.
What is your career goal?  I would love to be a working court reporter by the end of 2014 and continue to grow and learn and become NCRA certified in 2015.
Advice you would give to other students?  Easier said than done, but definitely to treat this course like a full-time job, with no distractions. Commit to your daily hours on your machine, and stay focused and positive.
What are other hobbies you enjoy?  The only thing I make time for is fitness classes at the gym. IF I had the time, I do enjoy reading. Right now I only have time for the JCR, LOL.
What made you decide on court reporting as a career?  Love the flexibility, the opportunities, and the variety, that every day brings new stories, new situations.
Comments?  Thanks for your support. It definitely helps knowing I have my MCRA family to turn to for support and encouragement.
Thank you, Angeli!  Keep up the great work and you will be a licensed and working reporter before you know it!
Updated on Wednesday, August 20, 2014
Published August 18, 2014 By 
NCRA
Beginning in 2015, NCRA will move away from the traditional brick-and-mortar testing sites and shift the RPR, RMR, CRR, CBC, and CCP skills tests to an online proctoring model using the advanced technologies of myRealtimeCoach and ProctorU.
Why the change?
NCRA heard the call of the membership. Among the requests were: 1) more testing opportunities each year, 2) instantaneous results, 3) the chance to pay for each test leg individually, and 4) more convenient testing. The shift to online testing allows for the fulfillment of these requests and more.
Benefits of this new format include:
Increased convenience – test when you're ready
Test from the comfort of your home or office
No distractions
Flexible scheduling – you will be able to take a test when you are ready, not just in May, August, and November as the current model dictates
Cost savings – no more travel, gas, hotel expenses to the closest testing site
Registration fees will now be priced per test leg, which will result in cost savings for most candidates
Get your license sooner for those CSR boards that use the RPR
Get your increase sooner for those employers who offer an increase/bonus with new credentials
Decreased anxiety – take the test in your own environment
Timeline
The skills tests will be administered at all current brick-and-mortar sites on November 1, 2014, and at select sites on May 2, 2015. From then on, all skills tests will be administered online via a live, professional proctor. Please visit the Certification Test Center at NCRA.org/testing for updates on the timeline. Read More