A Message from our MCRA President
Think Outside the Box
As I head off today for a new adventure in Court Reporting, I'm reminded of the fact that every now and then we just need to
think outside of the box. Being stuck in a rut isn't good for any situation life throws at us. We must be open to new experiences, new techniques, new technology, and new avenues to boost our Court Reporting revenues.
What do the people around us need? We possess a unique skill set to provide captioning, Court Reporting, aid to disabilities, and so much more to meet the needs of the ever-changing world around us.
Are you interested in a particular type of reporting? Is it your dream to caption sports events at a major stadium? Do you feel a strong compassion for the disabled and wish to aid them in their quest for education and knowledge? How about your church? Have you ever thought of offering your services to your church to caption the message so that the hard-of-hearing can follow along with it? If so, the field of stenography and Court Reporting is definitely for you! There are all types of venues that you can make your own niche in. There are plenty of resources available to help you research these avenues, and one great one, of course, is the NCRA website. They offer links to training and certification resources that will make your search easier. Also, our MCRA website is a valuable tool. NCRA is a great organization to belong to – as, of course, is our very own MCRA! Together MCRA and NCRA work hand in hand to meet whatever needs you have to make your very own Court Reporting dream come true.
Don't get stuck in a rut. Don't just do things the way you've always done them. Don't just think that life's opportunities will come knocking at your door. You have to create your own opportunities. So think outside of the box when it comes to your skill! Dream big dreams. Take on the world! Yes, you can do it!
Now, go be amazing!
— Karen C. Reid-Edge, CCR
MCRA President, 2013-2014
---
MCRA News
Updated on Friday, November 15, 2013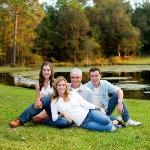 Our thoughts and prayers are with our beloved MCRA member Tina Marie Breland and her family.  Tina was recently diagnosed with cancer in her pancreas and liver.  She and Doug are flying back and forth to Chicago every couple weeks so that she may undergo lengthy chemotherapy treatments.  A webpage has been created by her family and is kept up-to-date on her progress.  You may visit this page by going to caringbridge.org and typing in "Tina Breland."
If you would like to donate money to the Breland family to help with expenses they are facing, please click the PayPal button in the General Payment section of the MCRA Store.  Please specify "Donation for Tina" when paying.  No donation amount is too large or too small, and prayers are always appreciated.
Be strong, Tina.  Your court reporting family loves you and is here for you.
Updated on Tuesday, September 24, 2013

YOU ASKED FOR IT AND YOU GOT IT!
A message from Monica Schroeder, RPR, CRR, CCR, Freelance Committee Chair:
I am so excited to tell our membership that we have heard the reporters of this state and their requests, and as such, we are announcing our first, but hopefully not last, Saturday CEU seminar.
On Saturday, November 16, 2013, beginning at 8:00 a.m. at IP Casino, Resort & Spa in Biloxi, MS, we have a great lineup of speakers, offering  .7 CEUs, .25 PDCs for national credits; and 16 credit hours for the Mississippi CCR continuing education credits.
In an effort to get as many CEUs out of this one day, we are starting early, at 8:00 a.m., and the classes will conclude at 5:30 p.m.  Included in your registration fee is a first-class lunch in an adjacent meeting room and two refreshment breaks in the lobby of the meeting area so as to keep our lunch and breaks as short as possible and get us back in the classroom quickly and efficiently.
Please get your registration forms in as soon as possible.  If you have all of your CEUs, please come for the fellowship and to support this effort.  The seminar is being funded solely from the registration fees, with no financial assistance from the MS Judicial College, so we need the support of the reporters who have asked for this event.  It's all for you!  MCRA belongs to its members, and as such, we are working tirelessly to meet the needs of the reporter community.  Please join us and let's work together to make MCRA the best it can be.
Can't wait to see you there!
 Please click HERE to be directed to event details and registration packet.
Updated on Wednesday, September 4, 2013
The Whispering Woods Hotel in Olive Branch is FULL!  Please contact the overflow hotel, The Fairfield Inn and Suites, when reserving your room.  Their contact information is on the Registration Packet found under "Upcoming Events" located on the upper right-hand side of mscra.com homepage.
Also, it is strongly suggested that if you plan to attend this convention that you go ahead and register now with MJC (Mississippi Judicial College.)  If you are not completely sure you will be going and plan on just registering on site, please go ahead and register now and pay MJC at the registration table when you arrive.  This will make the on-site registration process faster and will actually save you an on-site registration surcharge fee.