A Message from our MCRA President
It is a special honor and a privilege to begin my term as president of the Mississippi Court Reporters Association. Our outgoing president, Sheila McKinney, deserves an enormous thank you from all of us for guiding our association so fantastically. She has been a terrific role model, and her shoes will be impossible to fill. Luckily, for all of us, Sheila will continue to serve as an officer of the association for an additional year in the role of immediate-past president. I am especially grateful that I will be able to rely on her wise counsel during my term and for our lifelong friendship that was cultivated and nurtured through our service to MCRA. 
Not only have our members benefited from our involvement, but we, along with other board members, have all become lifelong friends. This pattern was overwhelmingly evident during the officer installation luncheon at the spring convention as the President's Distinguished Service Award and the Kay Ferguson Award were presented.  The presentations brought tears to the eyes of many in the room and exhibited the strength behind our association. The rewards of association involvement are priceless. So if you are not involved in our association, you are really missing out!!!!  Please contact me about serving. We can talk about your interests and find the perfect place for you to utilize your gifts and talents. Take my word for it, you will receive so much more than you could ever give.
I am looking forward to working for and on behalf of each of you this year.  I encourage members, new as well as seasoned, to share your ideas, needs, and concerns with MCRA so that we may continue serving you, our members, to the best of our abilities.  I am excited about continuing the good works of MCRA, planning and planting seeds for our future.
In closing, I encourage each one of you to reflect on your talents and what you could bring to our association.  Make the personal decision to give back to a profession that has given so much to you.  I look forward to serving as president of this wonderful association.
Professionalism Measured by Excellence and Ethics. 
— Melinda K. Bowers, CCR
MCRA President, 2015-2016
---
MCRA News
Updated on Saturday, February 13, 2016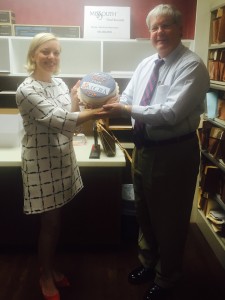 …Rick Barry!
Congratulations to Rick Barry of Meridian, Elected President-Elect of The Mississippi Bar.  Rick's term as President-Elect will begin at the conclusion of the 2016 Annual Meeting held in July.
Photo:  MCRA President Melinda Bowers presents MBA President-Elect Rick Barry with a cake.
Updated on Thursday, September 3, 2015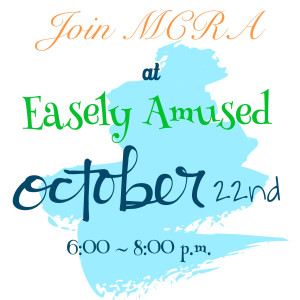 Join MCRA at Easely Amused for an abstract painting of our steno keyboard Thursday, October 22nd, 2015, 6:00 p.m. to 8:00 p.m. The class accommodates 40 artists; so reserve your spot ASAP, as we're sure these seats will go fast. Once we have 40, we'll start a waiting list to fill any cancellations. Your spot is secure once we receive your $40 class fee.
The fastest method to reserve your spot is through our online store here –> mscra.com/store/. Once there, click on "general payment" and pay $40.
*** Bring your wine; we'll have the cheese and grapes! ***
For Ridgeland location, please visit easelyamused.com or MCRA's Upcoming Events section on our home page.
MCRA looks forward to seeing you there!
Updated on Wednesday, June 17, 2015

It is with great pleasure that MCRA congratulates Angeli English on being selected to receive the 2015 CASE Scholarship.
As a recipient of the $1,000 scholarship award, she will be recognized at the NCRA Convention & Expo in New York and her name will be listed on the NCRA Web site!
We are so proud of you, Angeli!