A Message from our MCRA President
Wow! It hardly seems possible that a year could have come and gone by so quickly, but here we are, with only a little less than a month to go before the MCRA Presidential torch is passed.
MCRA has had a busy year. MCRA has triumphed on some fronts and has had ongoing challenges on others.
Let me take you back to a year ago when I first stood before you and addressed you at the installation luncheon. At that point, I stated that MCRA is not just one person. MCRA is all of us working together, as a team, working not just for official reporters or freelance reporters, but for reporters of all walks – understanding the needs we all have as reporters, and wanting to find outcomes that fulfill those needs in the best way possible for the Association as a whole. Read More
---
MCRA News
Updated on Saturday, April 12, 2014
MCRA's Promoting Our Profession (POP) Committee is now recruiting awesome reporters like you to volunteer some of your time to be an MCRA Mentor (POP Stars!). This mentoring program is designed specifically for our court reporting students to have an opportunity to connect with working, licensed reporters who are members of MCRA. Our mentors will offer support, guidance, motivation, job shadowing, a shoulder to cry on, and utmost enthusiasm when students reach their goals. We all have been through school and know the challenges each student faces. We have students eagerly awaiting mentors. Show your support for the future of our wonderful profession and sign up to be a mentor today!
For more program details and/or to sign up to be a POP Star, simply click on the Student tab and go to Mentor Program. Follow instructions on where to send completed application.
Don't miss the Mentor Program seminar at the Spring Convention in Biloxi, Mississippi!
Updated on Tuesday, April 8, 2014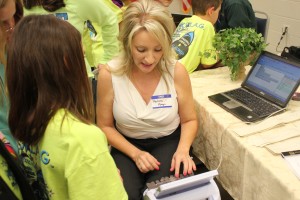 Here's a message from MCRA member and Mentoring Program Coordinator Melissa Magee, CCR, RPR, RMR, on a recent school visit to Promote Our Profession:
On Friday, March 28, 2014, the Simpson County School District conducted their annual Career Day for the FLAG students at the Co-Lin Junior College, Mendenhall Branch.
Participating in the career day this year were nurses, nutritionists, a vet, a forensic scientist, highway patrolmen, national guardsmen, and OF ALL THINGS, a little old lady with three odd-looking machines.  Over two hundred students were in attendance.  Many of them ventured a guess as to what the machines possibly could be.  One was green, had three legs, and black shiny keys with no letters.  It had a tray sticking out the back with paper hanging out of it.  "Is it a telegraph machine?"  "I know, it's a machine you vote on."
One of the machines was pink, had a couple missing keys, was split in two and seemed to serve no useful purpose at all.  "It's a cash register."  "No, it's not a cash register.  I've seen one of these before.  It's one of those typewriter thingamajigs they used two centuries ago."
The third machine appeared a bit more sophisticated.  It was shiny blue, has beautiful little black keys and a fancy screen.  Even though there were no letters on the keys, there were words on the screen — English words. There were Qs and As everywhere.  "Oh, I know what this is.  This is one of those Morse code deals."  "No, that's crazy.  This is what the deaf people use to communicate."
After a demonstration and much persuasion, the audience of highly-intelligent children was convinced, and even a little impressed.  IT WAS A STENO MACHINE.  "And that lady sure was fast to be so old."   Yep, that kid seriously went there.
All in all, it was a great time.
Updated on Saturday, March 29, 2014
What have you done to Help Promote Our Profession?
Here's a message from MCRA member and Mentoring Program Coordinator Melissa Magee, CCR, RPR, RMR, on a recent school visit to Promote Our Profession:
I went to Mendenhall Elementary School and spent the afternoon with two fourth grade classes and teachers, Ms. Sullivan and Ms. Weeks. I set up my equipment, talked about realtime, and gave a demo.  I then gave a short lecture/talk on court reporting and our role in the courtroom, in depositions, as well as the job of CART providers and captioners.
The students were assigned the roles of judge, jury member, bailiff, plaintiff and attorney, defendant and attorney, and witnesses.  We had a mock trial on "The Case of Mary's Missing Lunch."  Apparently Virgil Goodman was seen with peanut butter on his mouth shortly after Mary's lunchbox was discovered missing.  When the lunchbox was found, Mary's peanut butter sandwich, banana and Capri Sun was gone.  All that remained was a few crumbs.  Virgil was implicated because he was appointed to carry the lunchboxes from the room to the cafeteria.  After much hilarious testimony, Virgil was found guilty by his peers.
When the mock trial was over, each of the 50 students were allowed to write on the manual machine that was set up in the classroom.  After they pecked a bit, I then wrote their names on the machine and tore off the paper for them to keep with their names written in steno.  It was so much fun.  One kid wanted the names of his brothers and sisters written also so he could share that with them.
Of course I took jellybeans for them to eat.  I passed out the jellybeans, left them with a sugar high, and got out of there before the buses arrived.
It was truly a blast. 
Stay tuned!  Article and pictures on Promoting Our Profession at a local college coming next week.
Be sure to check out MCRA's Gallery for more photos.