Volunteer service is sometimes a thankless job.  For the third time in its 51st-year history, MCRA has established an award that will be presented to an outstanding MCRA member who has demonstrated unwavering loyalty to this association and profession, demonstrated outstanding leadership, dedication, service, and commitment to MCRA, and for tackling the challenges in the court reporting profession thus allowing court reporters of Mississippi the opportunity to shine and prosper.
The Kay Ferguson Award is in honor of the Late Kay Ferguson who was instrumental in the development and growth of MCRA as well as other areas of Mississippi Court Reporting
Ms. Kay worked in the Mississippi State Courts for 48 years, with 13 years with the Mississippi Workmen's Compensation and the rest of the time with the Mississippi Chancery Court with Judge Joe Stennett and Judge Stuart Robinson.  She was a Chairman with the NSRA (which is now NCRA), an MCRA Committee member, Vice-President, and President.  She was a native of Crystal Springs, MS; graduated from high school there; and received her BS Degree from Mississippi College for Women in 1955.
Ms. Kay was very active in MCRA.  She produced printed newsletters to the association – this was way before computers, email, text messages, and Web sites.  She was active in the 1976 legislative efforts to get a pay raise for officials.  They were trying to get a boost to $14,000 a year from the ceiling stipend of $9,600.  Every chance she could, Ms. Kay would encourage the MCRA members to join the National Association.  NSRA answered Kay's call for assistance on some things, and Kay thought it would be really something if all MCRA members were also NSRA members – to be the first state to show such support in return.
In 1974, Ms. Kay was asked by Mississippi Governor Bill Waller to serve Mississippi in the capacity of Commissioner on the Mississippi Criminal Justice Standards Commission.  This Commission had the tasks of studying the criminal justice system and its effect on crime rates as well as a few other tasks.  Kay also received correspondence from Lieutenant Governor Gandy and Governor-Elect Finch on various topics, including speaking to MCRA members at conventions.
Also in 1974, Ms. Kay was extensively involved as a member of the Task Force of an In-Depth Study of Court Reporter Practices in Mississippi.  She was also a key player in the establishment of the court reporting program at Ole Miss.  She along with a few others traveled to Temple University to visit their court reporting program as well as held meetings at Ole Miss with Deans, professors, and key people from Chicago and Philadelphia.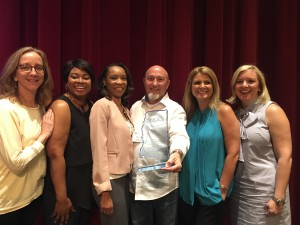 In a letter dated July 17, 1975, from James M. Pierce, Courts Specialist, in the Division of Law Enforcement Assistance of the Office of the Governor, stated, "If this matter is successfully concluded, I feel that all of the court reporters as well as court personnel in general, owe you a beer or a medal or something for your acute interest and for your leadership in getting something started in this field that can result in a much improved court reporting system and a much improved overall court system."
Ms. Kay is no longer with us.  She passed away in December of 2012.  I only wish I knew her and about her achievements sooner so I could thank her in person for everything she has done for us, and definitely buy her a beer during what her generation called "The Attitude Adjustment Hour" – or what we call Happy Hour now.
I'm very proud of MCRA for establishing this award.  This year's Kay Ferguson Award goes to a reporter who has been reporting for 26 years.  This leader served in:
⭐️Louisiana – Director, Secretary, Vice President, President Elect, President
⭐️Mississippi – Director, Vice President, President Elect, President, Parliamentarian (3x), 
⭐️Mississippi Board of Certified Court Reporters – Three terms
✅NATIONAL SERVICE✅
National – Chief Examiner for RPR and RMR skills test for Louisiana
NCSA Regional Representative, NCSA Vice-Chair
NCRA's Nominating Committee's Choice for NCRA Director in 2016.
We could never say thank-you enough to this year's recipient.  It is our absolute honor to award the highest honor given to an MCRA member, the Kay Ferguson Award, to an awesome behind-the-scenes HUGE contributor of our association, Huey Bang.